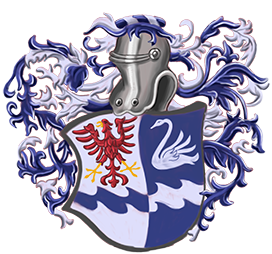 In 1996 "Villipo & Swanilia" were published for the first time in the Black Forest messenger. The following strips, made with ink and feather at the time, were published. These are the two heraldic animals of Villingen and Schwenningen, a red eagle and a swan.
Further drawings document the development of the figures.
In 2010 I took up the genius idea of the then editor-in-chief of the Black Forest messenger, Mr. Gramsch, with the two heraldic animals from Villingen-Schwenningen. Today the two are called "Swani & Bert". "Swani" comes from Swanilia, the founder of Schwenningen and "Bert" from Berthold, the founder of Villingen.
The first sketches from 1996 to the current concept for the final comic strip 2010.
Panel Artwork
Comic strips 2020
Comic strips 2019
Comic strips 2018
Comic strips 2017
Comic strips 2016
Comic strips 2015
Comic strips 2014
Comic strips 2013
Comic strips 2012
Comic strips 2011
Comic strips 2010